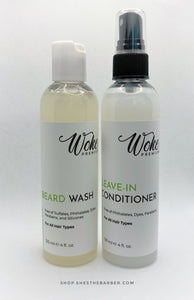 Beard Wash 
Infused with Eucalyptus, Bergamot, Ginger Root Extract, Broccoli Seed Oil, Sea Kelp Extract, and Green Tea Extract

Description

Sulfate-free beard wash created to gently cleanse the beard while retaining moisture. Vegan-friendly.
Directions:

Apply cleanser to damp beard and massage into the face and neck until it lathers. Rinse completely. Repeat if necessary. Follow up with Woke Premium Leave-In Conditioner
-Free of Sulfates, Phthalates, Dyes, Parabens, and Silicones
-All Hair Types
Conditioner
SEAL THE DEAL. Use daily to moisturize and soften beards.
 ***Customers Favorite***
DIRECTIONS:

After using Woke Premium Beard Wash, towel dry and sprits Leave-In Conditioner throughout beard
-Free of Phthalates, Dyes, Parabens
-All Hair Type
-Infused with Eucalpytus, Bergamot and Cucumber Extract